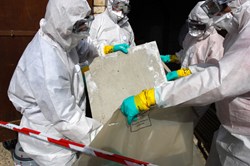 although awareness training is a legal requirement, it doesn't allow operatives to remove asbestos. Specialist contractors need to be brought in to do this. Non-licensed asbestos removal can be undertaken following UKATA category b training
(PRWEB UK) 4 October 2013
Everyone is aware of the dangers of asbestos and as a result very little is used these days for everyday purposes but every now and again staff can come up against it in their work and they must know how to deal with it safely. The new course offered by Boss Training covers all aspects on non-licensed asbestos work, as outlined by the Health and Safety Executive's guide on the subject. The course only takes one day and is time well spent.
Risk assessment
To be able to be undertaken by a non-licensed operative, the asbestos must conform to certain conditions set down in the guidelines and being able to assess whether these terms are met is an important part of dealing with the substance. The Boss course covers the rules comprehensively but does not rely merely on theoretical training; there is a helpful practical element also, to make sure that all attendees know exactly what it is they are looking for.
Who might need the training?
The United Kingdom Asbestos Training Association (UKATA) has designed the course content to suit employees who may be asked to undertake unlicensed asbestos removal activities. This would typically be someone who works for short periods and not in any regular way with non-friable materials which, when worked on, release only a small amount of fibres. This type of work could include drilling into textured coatings, removing insulating board and lifting floor tiles but there are other jobs which might occasionally bring someone into contact with asbestos. As it is far better to be safe than sorry, anyone who might find themselves in this position should get the relevant training.
What does the HSE say about asbestos?
The Health and Safety Executive allows non-licensed work with asbestos as long as the concentration in the air is less than 0.6 asbestos fibres/cm3 over 10 minutes and that the person's exposure will be less than 0.1 fibres per cm3. Needless to say, understanding the measurement of fibres needs to be explained to most people and this is where the course comes in. Apart from these criteria, the job must be short and non-continuous with none-friable materials and that the asbestos material is in good condition or coated to prevent high fibre counts. There is also a necessity to monitor the air for confirmation that the concentration is acceptable.
Safety and peace of mind
The Boss Training course is delivered every month in Leeds but any company with more than eight staff to train can arrange on-site training. This is a good way to make sure that the training is absolutely geared to what employees might meet in their day to day work; Boss are always happy to discuss any queries any employer might have regarding asbestos safety and what training would be most suitable.
What is covered?
Boss UKATA Asbestos Category B Training Course covers absolutely everything that a member of staff would need to know about dealing with the risks of asbestos removal but also covers, more importantly, how to identify a risk when it occurs. It covers the essential record keeping necessary with regard to air monitoring as well as how to actually carry out the monitoring itself. It covers – with theoretical and practical modules – the safe removal of asbestos, including dust suppression techniques, decontamination, handling waste and perhaps most importantly, emergency methods. At the end of the course there is an assessment and all successful attendees will receive UKATA registered Non Licensed Asbestos Removal Training Certificate and photo I.D. card which many people find useful when tendering for work. It is also a useful reminder for when refresher courses might be due, so everyone's knowledge is kept up to date.
Continue reading: 
Keeping Safe and Up to Date with Boss UKATA Asbestos Category B Training