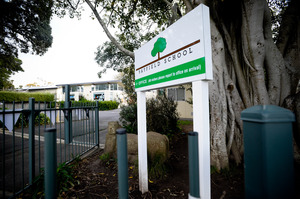 Bayfield School, Herne Bay. Photo / Jason Dorday.
Pupils from an asbestos-contaminated Auckland primary school will be taught at a neighbouring school until the all-clear is given.
Bayfield School in Herne Bay will merge with Ponsonby Primary School for a week while a classroom block with asbestos in its cladding is completely removed from the decile 10 school.
Bayfield Board of Trustees' chairman David McPherson said the roll of about 350 Bayfield pupils won't have to squeeze into Ponsonby Primary classrooms.
"We're not merging classes. Ponsonby has available spaces for our kids – its hall and a number of rooms. There has been talk about combining sports events – that's part of what would be happening normally."
The Ministry of Education said schools had freedom to determine arrangements for themselves. A media representative said she was unaware of restrictions about the number of pupils or teachers allowed in a single room.
All of Bayfield will remain closed until a concrete slab can be removed from an old building. "It makes sense to complete the entirety of the demolition," Mr McPherson said.
His own son will go from Bayfield to Ponsonby Primary this week. "He's excited about the chance of a new experience, spending a week at a different school," Mr McPherson said. "Children are resilient and they'll enjoy it."
The parent who raised the alarm over asbestos said the coming week would not be without anxiety.
Brett Archer said he organised testing when he noticed asbestos dust coming from cladding on a six-classroom block being demolished at Bayfield School. He said his children wanted to know whether the other kids would be at Ponsonby and where their class would be.
"There's anxiety – but kids will be kids, they'll cope well. It'll be quite a novelty."
Mr Archer first raised concerns on May 2 in response to an email about the demolition, but said it took until May 7 for independently verified asbestos test results, which he organised, to come back. Mr Archer also inspected the paperwork of the demolition workers himself.
"Everyone was shellshocked, they hadn't quite realised 1) what the hell was going on and 2) the disjoint between what was happening on site and the paperwork."
Ministry of Education Head of Education Infrastructure Service, Kim Shannon, told media on Thursday that testing that day found no sign of any asbestos contamination outside the immediate work site area, although further testing would be done.
Mr Archer, who deals with asbestos contamination on a daily basis, said his children's health and safety was his key concern.
"The MOE has jumped in ferociously. I'm taking comfort that Worksafe and the Board and Ministry of Health are involved. But it took six days for me to get to the point of getting the school closed.
"It's an absolute disaster any way you look at it; the impact on learning. It's huge," Mr Archer said.
Mr McPherson, a lawyer at Bell Gully, continued meeting with Bayfield's principal and the board this afternoon.
– APNZ
This article: 
Asbestos risk: Pupils to study at neighbouring school