Grayling Industries Introduces Durapax Asbestos Waste Disposal Bags
Grayling Industries makes available the Durapax line of asbestos waste disposal bags through a nationwide network of specialty safety supply distributors.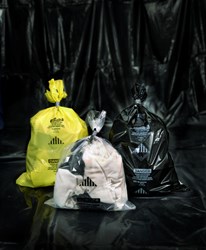 Alpharetta, Georgia (PRWEB) September 18, 2013
Most state and local government regulations require asbestos waste to be contained in at least two, properly marked, 6mil thick, leak-tight polyethylene bags for disposal in specially designated landfills.
Grayling Industries' Durapax asbestos disposal bags are industrial strength bags for containing and disposing of asbestos and other waste and meet all regulations for proper asbestos waste handling and disposal.
Durapax asbestos bags are available in a variety of sizes, thickness, colors and printing. The bags are packaged on a roll and perforated for dispensing ease. The bags are available in flat or gusseted form, depending on the bag size. Durapax disposal bags are full gauge and extruded from resins that provide exceptional strength and tear and puncture resistance for the most demanding waste disposal applications.
Durapax asbestos waste disposal bags are available in clear, yellow and black polyethylene, with or without the asbestos warning printed on the bag. Standard sizes are 33″ x 50″ and 60″ x 72″. Other sizes, gauges, printing and colors are available as special order.
For more information contact Grayling Industries: http://www.graylingindustries or grayling(at)graylingmail(dot)com.
View the original here:
Grayling Industries Introduces Durapax Asbestos Waste Disposal Bags